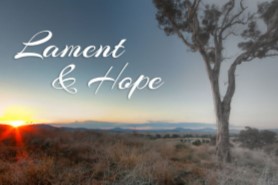 The Revd Ali Massey has put together a resource for personal prayer and reflection in the time of Coronavirus centered around lament and hope.
Lament is the expression of deep sorrow for our pain and travails, individually or collectively. It is asking for God's blessing or intervention. It is a prayer for help coming out of our pain.
Lament is different from simply crying, and far, far more. Lament is our prayer language in a sorrowful world, because it is how we talk to God about our pain and sorrows as we renew our hope in his sovereign care.
Lament is talking to God, bringing all our feelings to God instead of allowing ourselves to get angry or embittered.
Lament is laying out the messy struggles of our souls and then asking for God to help us.
It may help to think of it as having four elements, or faces:
¨ We are invited to turn to God – choose to talk to God about what is happening.
¨ We are invited to pour out our own pain before God: to humbly and honestly identify whatever pain and sorrow, anger, questions and frustrations we feel.
¨ We are invited to ask God boldly for help – dare to hope in his promises.
¨ And finally we are invited to choose to trust him: 'I trust in your steadfast love', and 'My heart shall rejoice in your salvation.