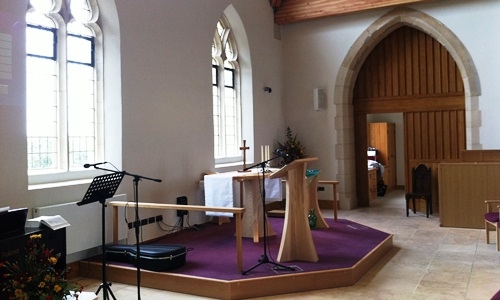 No one believes that church buildings are (or should be) dusty old museums that should be preserved without question. Churches are working buildings that need to be able to adapt as their use changes and diversifies. Historically churches have been altered and rearranged throughout their history to meet changing needs, and this is no more apparent than it is today. Throughout the Diocese we have fabulous examples of varied and extended uses that have been achieved through some alteration or adaptation of the building. We are increasingly seeing our church buildings used for a wider range of activities for both the worshipping congregation and the wider community, with churches becoming a significant hub of activity in the local area.
Making changes to your building
If you are thinking of embarking on a church building project contact Claire Strachan, the Church Buildings Projects & Development Officer, for informal advice and guidance on how to start.
Common projects include:
Installation of WC facilities
Installation of servery or kitchen
Creation of 'Welcome Area'
Minor reordering for liturgical or social activities
Less common (but equally as valid!) projects include:
Large-scale/complex reordering
Construction of extensions for meeting rooms/facilities
Grants and Funding
Funding major projects can be a difficult and overwhelming task, and writing grant applications can be complicated and time consuming. However, despite increasing competition, if carefully targeted, grants generate a greater return on time invested than any other form of fundraising.
There are thousands of grant-making bodies in the UK, which can be bewildering. Depending on the type and size of your project, only a small proportion will fit their criteria.
Our Grants for Churches Directory is designed to narrow down your options. Our Church Buildings Funding Support Officer, Andy Duncan, can help you create a grant target list and help you prepare applications.
If you are considering a large capital project requiring more than one grant, please refer to our handbook - Managing Major Grant-Funded Projects.
Contact
Claire Strachan, Church Buildings Projects & Development Officer: Claire.Strachan@Coventry.Anglican.org
Andy Duncan, Church Buildings Funding Support Officer: Andy. Duncan@Coventry.Anglican.org
When PCCs are considering undertaking a particular project, for example to introduce a new servery or meeting room, they regularly ask the Church Buildings Team for examples of similar projects in the Diocese so that they may be able to visit them. If you have recently completed a project in your church and would like us to tell other parishes about it please let Claire know - if you have any photos that would be even better.
Documents
A Churchwarden's Guide to the DAC 2021
Statements of Significance and Need (Churchcare)
Church Building News December 2019
*NEW* Inspires (Church Building Team newsletter) issue 1, December 2022
*NEW* Inspires (Church Buildings Team newsletter) issue 2, May 2023
Useful links
Churchcare - the central resource for all advice and guidance relating to church building projects