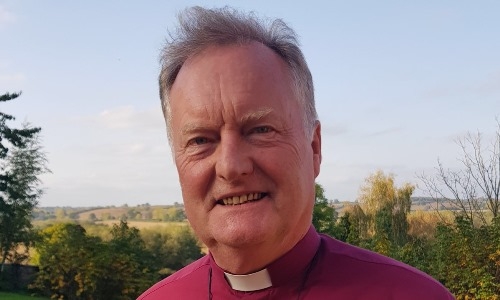 Before ordination Bishop John was involved in Youth Work, first of all on the island of Iona and later in Edinburgh. During this time he wrote and directed plays for the Edinburgh Festival, one of which was sponsored by the Scottish Arts Council to go on tour to Canada. After that, following time with the Cyrenians working with the homeless, he worked for a Church-based Housing Association in Manchester. He served his curacy in inner-city Coventry and his first incumbency in inner-city Birmingham. This was followed by eleven years in a rural benefice in Oxfordshire before returning to Coventry Diocese as a Bishop.
Though having lived most of his life in England, his roots, like those of Mary his wife, are in Scotland. They have two daughters, two dogs and a cat! The latest addition, Fergus, was acquired when he went to a parish to bless a bread oven and came home with a puppy!
A fundamental priority of his ministry is the spiritual renewal of God's people and the deepening of our life of prayer so that out of this 'abiding in Christ' we may more fruitfully bear witness to his love. It is out of this listening to God that we can more effectively listen to others and so be bearers and messengers of his life-changing love. It is the transforming power of worship that above all energises us in God's mission. For many years he has been involved in the ministry of healing and in the encouragement of parishes in this ministry. This is one dimension of the ministry of reconciliation to which this Diocese has a particular calling. His book "Turned by Divine Love" was published in March 2019.
He is President of the Association for Promoting Retreats and Co-Chair of the Reuilly Contact Group. He has also served as UK President of the Community of the Cross of Nails, as a member of the International Commission for Anglican-Orthodox Theological Dialogue, as Co-Moderator of Coventry and Warwickshire Churches Together and as a member of the House of Bishops Group on Human Sexuality.
Amongst many involvements in the diocese, he has a particular interest in rural affairs and the farming community and makes regular visits to the prisons in the diocese.
Bishop John will be retiring on 7th August 2023. His farewell service will take place on Wednesday 12th July at 7.30pm at Holy Trinity, Stratford-upon-Avon. All are welcome to attend. Although not essential, it is helpful if you can let Kerry Vanston-Rumney know if you plan to attend. Kerry.Rumney@Coventry.Anglican.org