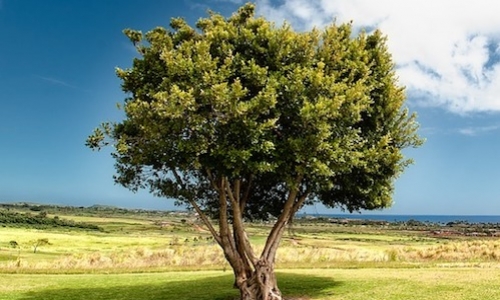 HELPING THE TREES TO GROW - a message from the Woodland Trust, December 2020:
It's important to care for young trees, particularly in the first few years when they're still establishing. If you are able to access the planting site during the current lockdown restrictions, we've pulled together a very brief Q&A of some of our most commonly asked questions to help you.
Weeds have started to appear around my trees, what should I do?
Weeding in the first couple of years after planting will reduce competition for ground water and nutrients. Pull up any grass or weeds inside and around your spirals. We can't over-state the value of this, and the significant difference it will make to tree establishment and survival.
How can I prevent weeds from growing?
You can suppress weeds by using mulch, such as bark chips or straw, around each tree. Spread to a depth of around 10cm to prevent it from being blown away or dispersed, and top it up annually. You can also buy mulch mats which can be pegged into the ground. Aim to keep a 1m diameter area around the tree clear of weeds and grass for the first 2-3 years.
Should I replace canes and spirals that have been lost?
New trees will not have anchored themselves into the ground properly, so the canes and spirals are really important. Check your trees are still upright and that your spirals and canes are pushed firmly into the soil. If you need to replace any that are missing or damaged they are available to buy from our online shop.
When do I remove the spirals and canes?
When the trees reach three metres in height, the spirals have done their job and will start to unravel. They could hamper growth if left so this is the perfect time to remove them
I'm worried my trees may have contracted a disease
Tree pests and diseases are not uncommon. If you think any of your trees are diseased please email us a picture at communitytrees@woodlandtrust.org.uk
What if I'm not on site to check regularly?
Make sure your caretaker, site manager and contractors know where your saplings have been planted. They might need to adjust their mowing routine to avoid your newly planted trees. It's also a good idea to let everyone know that ball games should be kept away from the saplings. Visit How to Care For Your Trees or Tree Tools for Schools for more aftercare advice or even watch our aftercare video here.
If, despite planting and caring for your trees correctly your trees don't survive, you're welcome to apply for another pack*. You can also reapply if you have the space, plans and commitment for more saplings. Applications for trees to be delivered in March 2021 are closing soon and can be applied for here.
* If you need to do this, please liaise with the Diocesan Environment Officer (Godfrey.Armitage@CovCofe.org) as your tree was obtained as part of a group order by the Diocese.
THE STORY OF THE TREE PROGRAMME
As part of the 2018 Diocesan Centenary, the DEG organised The Centenary Tree Project, in which it was proposed that a tree would be planted to commemorate the Centenary in every churchyard and in the grounds of each Church of England School. We are very grateful to the Woodland Trust, which has kindly donated enough trees for us to plant one in every churchyard and Church of England School. Please do promote and support the work of the Woodland Trust (see their website). If you do donate to them in response to their generous support, please do refer to the 2018 Diocese of Coventry Centenary Tree Project.
We were given 70 each of Silver Birch, Wild Cherry and Rowan and about 25 each of Downy Birch, Goat Willow (otherwise known as the Pussy Willow), Crab Apple and Hawthorn and 15 Holly. These have now been selected by 70 churches and the remainder went to our 76 Diocesan Church of England schools. three or more per school, and their 6 associated schools.
THE APPLICATION PROCESS
Details are posted here in the Documents section of the List B application process for placing a tree and a commemorative plaque in your churchyard. Incumbents and churchwardens received details and an application form from the DAC, including how to make a List B Application (http://facultyonline.churchofengland.org/home). The project is now closed.
PLAQUES AND DONATIONS FOR PLAQUES
The process of placing a plaque by the tree was made much more straightforward than usual (see the Chancellor's statement in the Documents section). The wording and the design of the plaques was standard across the Diocese. We provided plaques free; we are very grateful for donations which have already been received from parishes or individuals for this great project and to parishes which have sponsored their own or local church schools for the cost of a plaque. The plaques cost £45 each. If your parish has not done this, we still do invite you to consider doing so. Please mark any cheque made out to the Diocesan Board of Finance 'For the Centenary Tree Project'.
Heavenly Father. Thank you for blessing the Diocese of Coventry over the past century. Please protect these trees and bring them to maturity; may they symbolise our hopes for your people for the years ahead, that we may each be faithful to your calling, through Jesus Christ our Lord, AMEN