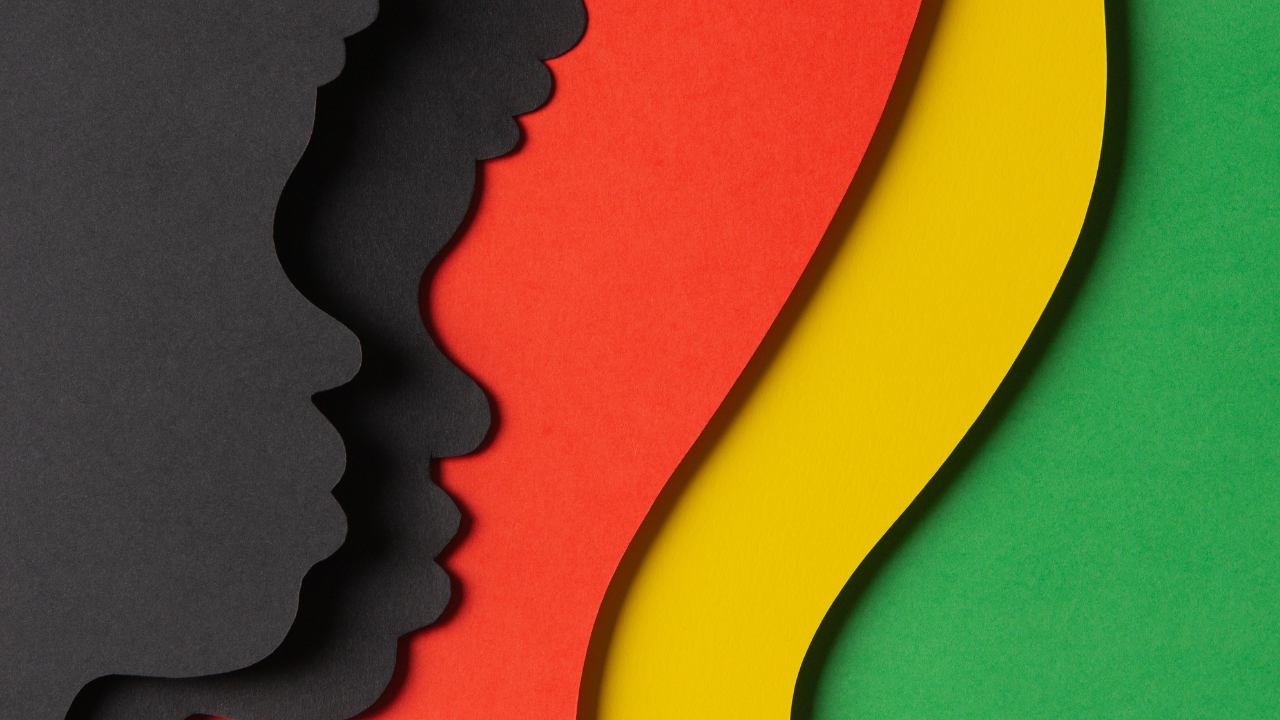 October is Black History Month. The theme for 2023 is 'Saluting our Sisters'.
Churches can celebrate Black History Month by reflecting on the contributions, that contemporary UKME/GMH people have made throughout their journey to faith. Celebrations can include a meal that features traditional African and Caribbean cuisine, introduces diverse music and instruments into worship, and by offering UKME/GMH people an opportunity to lead and participate in local worship – in prayers, reading scripture, or sharing testimonies.
Overall, Black History Month is an opportunity for us to move towards becoming the God's heavenly Church reflected in John's vision:
They sing a new song: "You are worthy to take the scroll and to open its seals, for you were slaughtered and by your blood you ransomed for God saints from every tribe and language and people and nation; you have made them to be a kingdom and priests serving our God, and they will reign on earth."
Revelation 5.9-10
After this I looked, and there was a great multitude that no one could count, from every nation, from all tribes and peoples and languages, standing before the throne and before the Lamb, robed in white, with palm branches in their hands. They cried out in a loud voice, saying, "Salvation belongs to our God who is seated on the throne, and to the Lamb!"
Revelation 7.9-10
This year's theme for Black History Month is 'Saluting Our Sisters' highlighting crucial role black women have played in shaping history, culture inspiring change & building communities. Including Music, fashion, sport, education, social & health care.
All Saints Leamington BHM Display
To highlight these achievements there will be a display at:
Dates: 7th -21st October (Excluding Mondays)
Time: 11.30AM – 5.30PM
Venue: All Saints Church Priory Terrace, Leamington Spa CV31 1AA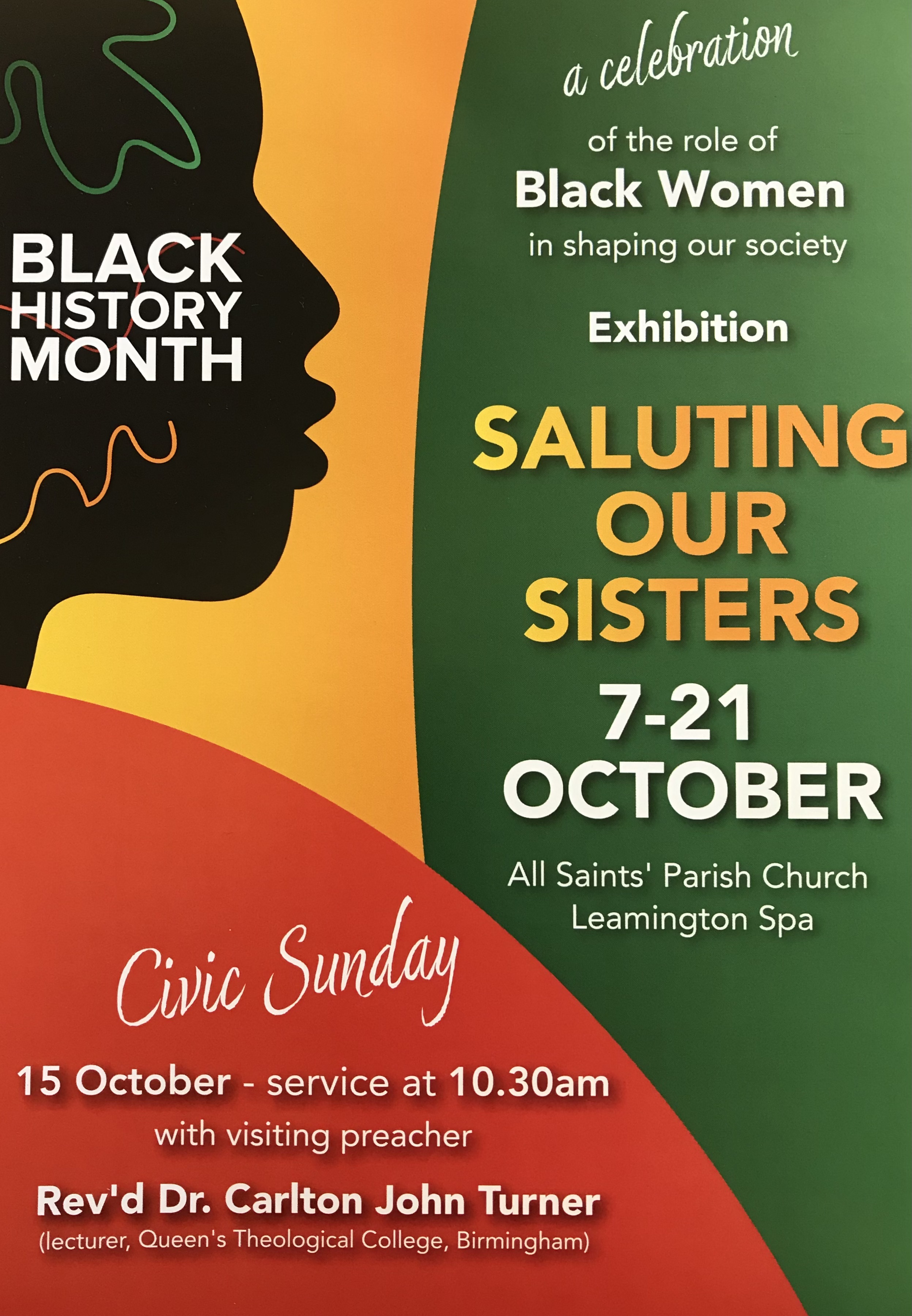 Prayers and Resources
Liturgical Resources including a collect for use in churches can be found here.
After the Flood
You may wish to watch and invite church members to watch the film 'After the Flood – The Church, Slavery and Reconciliation' (1hr & 7mins duration) as recommended on the Church of England website.
The film offers an insight into the role of the Church of England and slavery. It is useful in small groups and can be used for healthy discussions leading to prayer and reflection.
Prayer for Saluting Our Sisters
Dear God thank you for the courage and commitment that our sisters show in their work, family, caring, education and the church.
Help us to learn from them in their dedication to you in faith
To gain wisdom from the way they lead by example in education, care, business and daily life.
We thank you for giving them courage during times of racism and inequality. You are ever present during times of grief, poverty, injustice and hardship. We are grateful for the women who have served you in faith and led others in their families and communities to do so.
Thank you for the contribution that is made to this and every nation which is reflection of your Holy Kingdom where all are made in your image.
Windrush
This year also marked both the 75th anniversary of the Empire Windrush which arrived in London from the Caribbean, and the start of the NHS. The interlinked histories and legacy of both the NHS and the Empire Windrush remain highly relevant to us today as many from the Windrush generation have served and contributed to the NHS, London Transport and the Church. We can take courage from this generation who continued with their commitment to work, family and faith despite mounting challenges that settling int a new country bring and dealing with the racism.
Windrush Prayer
God who has no limits we thank you for the contribution that has been made by the Windrush Generation.
Grant future generations the courage showed by this generation , the commitment they gave and the imagination that inspired them in their daily lives of work.
Thank you for the spirit that you gave them to continue in the face of inequality and racial injustice.
We pray that you will give continued blessings upon them and for future generations. Amen
Poems
Faith
I could not count the years that God has lovingly stored up for me
I take each day with the hope He gives freely.
My faith in Him has delivered me.
I do not command up the breaths I take whether asleep or awake.
I breathe with the hope that He who lives saves and gifted me faith, is exalted and so, I give God the praise!
I do not walk by my own strength
He who began the good work in me, has chosen my destiny
I do not speak to cause death, I lift up my voice to worship and I choose to invest in eternal life. His confidence keeps me strong and I will survive.
I do not cause the earth to quake, the mountains to roll, the flowers to unfold
He who created all things bright and all things beautiful, shows me how to walk by faith in confidence.
I cannot see what lies ahead, around the corner, or even what is lurking beneath the ocean bed.
Yet I will lie down and take my rest, knowing that "To have faith is to be sure of the things we hope for, to be certain of the things we cannot see."
hat is the faith and the confidence I have because Jesus lives in me!T
So, right here and right now, and forever, I give thanks for faith!
Jacqueline Latty – Copyright ©️ 11th March 2023 All rights reserved
In Him Entwine
We learn, we create, we lean on Our Fathers strength.
As fragile shoots appear in our lives, restoration redeemed from pain and strife.
Loving Him with all our hearts, minds and Souls.
Ransomed souls saved from the power of His blood, His brokenness and His tears.
Remaining entwined in him takes us through challenging days, months and years.
Solitary confinement has no mercy, yet standing alone with Him, wrapped in the sun kissed presence, He shields us as He prunes away the branches of sin then leads us on boldly!
Blessing us, breaking the darkness and creating a beautiful earthly grace.
Belonging in his care, soaked in his glory he knows all about you for He is creations story.
Nothing but nothing can happen without Him, for you to bear an abundance of good fruit leaving behind all that once was grim.
Let him wrap you up in His tender mercy, for only He knows your truth. He will strip away the weight of negativity, as nothing is impossible with Him. H
is degree of correction reveals His affection, take his hand and all shall be well. Embrace Him and remain faithful, remain at one with him as in Him we all abound.
Fathers love of beautiful people breaks up folly ground. Joyful sounds of gladness, rejoicing all around.
Reverend Jacqueline Latty Copyright © All rights reserved
Delighting in the Lord
I've got to laugh when it isn't even funny
I smile when I'm broke and laugh hard and loud when I have money!
I bask in the sunshine when it isn't even sunny, for in my heart of hearts the name of Jesus is sweeter than honey!
I have hope in the most hopeless of circumstances, I've learned the art of dancing in the rain!
I sing and dance even when I am feeling down, I shake off my pain for I've learned to live again!
I manage a smile and I walk out in style
I give up my frown because I'm no longer bound!
I take a chance when opportunity advances, I look up for my help
for Jesus gives us opportunity, he's the Lord of more chances!
I have faith and trust in God our Father,
I am able to do all things through Christ who strengthens me.
Because He is good and He is Love.
He brings us Joy in the morning He is a true blessing from above!
Jacqueline Latty 11/03/2018 Copyrights ©️ All rights reserved
'Black and British' should not be a thing
'Black and British' should not be a thing,
It should be you, me, him, her, them and they,
But people look to your colour and country for your story,
And assume they realise your inner glory.
It is why some people call me the other black girl's name,
I shake my head and correct them nicely but they do not learn that way…a shame…
Shame on them, or shame on me?
They do not understand, yet I use the same strategy?
Perhaps it is on me to change the way,
I treat those that do not treat me the same?
I am learning we are all the same when we are ill,
Yet they do not treat us with the same pill?
Doctors say it is because they have not seen enough representation,
In their reading of literature beyond one's imagination,
The health of a black life is still incomprehensible?
The physical and mental implications of this are immeasurable…
What can one do to change the tone?
I am fed up of us suffering in silence, alone,
In our lonely plight for equality,
After centuries of ancestors lost in the name of finding peace…
'Black and British' should not be a thing,
It should be you, me, him, her, them and they,
But people look to your colour and country for your story,
And assume they realise your inner glory.
Because the different views we put on others
Can actually form these races and cultures,
And as beautiful as embracing all of that can be,
It takes us away from you being you and me being me.
We found beauty in division- how do we fix that?
It is a challenge, there is no hiding from that fact,
All I know is it will take the minds of those in charge,
To allow our rigid systems to open their arms.
A poem by Dayna Francis