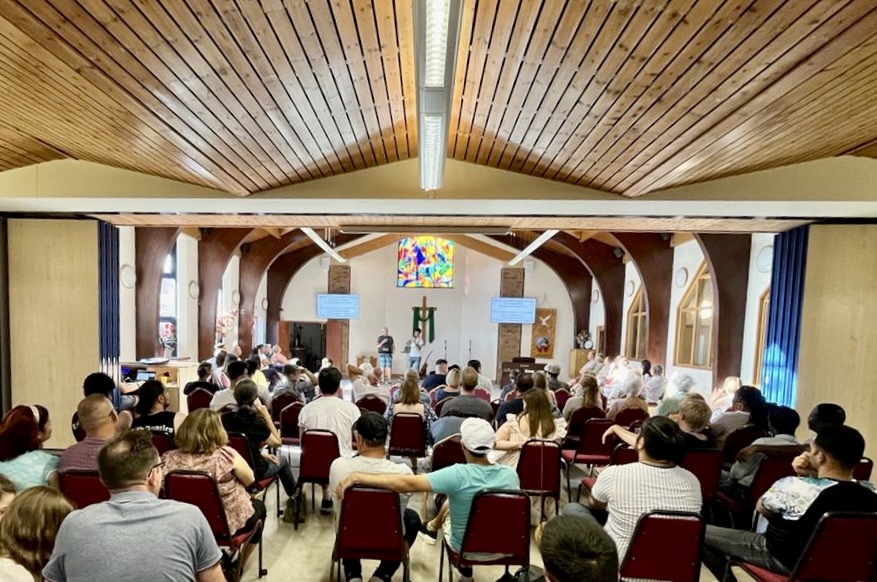 As we continue our theme of loving one another and celebrating difference, we look at the importance of welcoming people into our churches and communities from different cultures. One church that has had great success in doing this is St Peter's, Hillfields.
St Peter's hold a weekly service called the 'One Family Service' on Sunday evenings. This service attracts forty to fifty people a week from a range of different cultures.
The service started out as a small Bible study group led by Matt Robinson (Together for Change's Fresh Start Coordinator). Matt had been working with refugees and migrants in Coventry for a number of years and felt God call him to run a Bible study for the people he worked with. The study group started meeting weekly at St James, Styvechale but soon grew bigger, and when TFC relocated the majority of their refugee and migrant work to St Peter's, Hillfields, St Peter's became the ideal home for the Bible study to become a full service.
Hillfields is the perfect location to hold the service as many refugees and migrants live in the area. The One Family Service aims to be an accessible service for non-speakers of English where they can encounter God. Worship leader, Matt Brazier, has learnt several worship songs in different languages so members of the congregation can worship in their own language. Also, the Bible verse for the day is translated into many different languages. During communion, the priest speaks in English and the congregation respond in their own languages. The effect of this is a lively and vibrant service where people feel welcomed and valued despite language barriers.
The congregation at St Peter's have embraced the church's calling to welcome refugees and asylum seekers. Many people from the morning service volunteer with the One Family Service or the activities St Peter's offers during the week such as English classes, a youth drop-in and a community lunch.
If your church is looking at how you can improve your welcome to people from different cultures, particularly those who don't speak English, Matt Robinson advises setting up a simple Bible study group. He recommends following a Discovery Bible approach of reading a short passage together (translated into the languages of those in the group), then discussing three questions related to the passage.
If you would like to find out more about St Peter's, Hillfields click here.
To find out more about the work of Fresh Start click here.