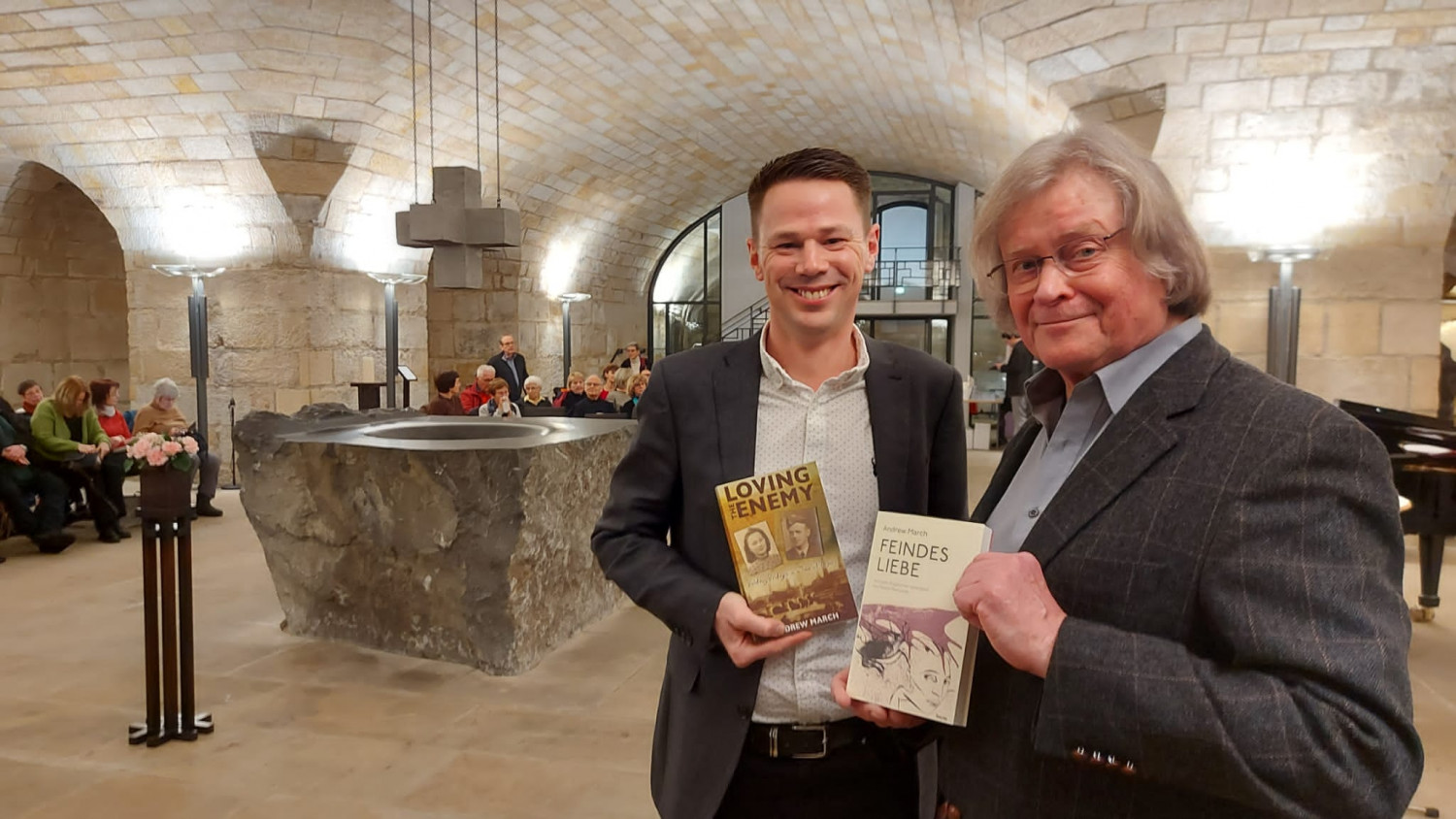 The Revd Andy March, Vicar of Allesley Park and Whoberley, writes about the launch of his book, Loving the Enemy – building bridges in a time of war, in Dresden.
Valentine's Day is traditionally the day in the year we celebrate love. A very special celebration of love took place on that day in the world-famous Frauenkirche (Church of our Lady) Dresden, with the book launch of Feindes Liebe (literally, Enemy's Love). Feindes Liebe: Brücken der Freundschaft in Zeiten des Krieges (Thelem Publishing, 2023) is the German translation of Loving the Enemy - building bridges in a time of war (Halwill Publishing, 2021), written by Andrew March, a vicar in Coventry. It tells the remarkable story of his grandparents - Fred Clayton from Liverpool, England and Rike Büttner-Wobst from a village near Dresden, who met in Dresden during the Nazi era and resumed their friendship after the end of World War II. In this story we discover how Fred and Rike build a love that crosses boundaries and defies hatred.
The story of how this book came to appear in England and now in Germany is itself remarkable. Its life began when Andrew shared the story of his grandparents to a large audience, including the Archbishop of Canterbury and Bishop of Coventry and others, in the Frauenkirche in February 2015, upon the occasion of the 70th anniversary of the bombing of Dresden. Andrew was part of a delegation from Dresden's British twin city Coventry which included the Bishop, Lord Mayor and representatives of the cathedral and wider community. Andrew was overwhelmed by the welcome he received from the people of Dresden as well as the interest that they showed in his family story. He left with a newfound sense of responsibility to research and write their story, which he did the following year, taking a three month sabbatical, sifting through boxes of material, including notebooks, Fred's semi-autobiographical novel The Cloven Pine, journals and above all, the letters that Fred and Rike wrote to each other, to bring this beautiful story to life. Eventually it was published in England in November 2021, and has been described variously as wonderful, compelling, gritty, honest and deeply moving, and by "LoveReading" as "a captivating historical narrative".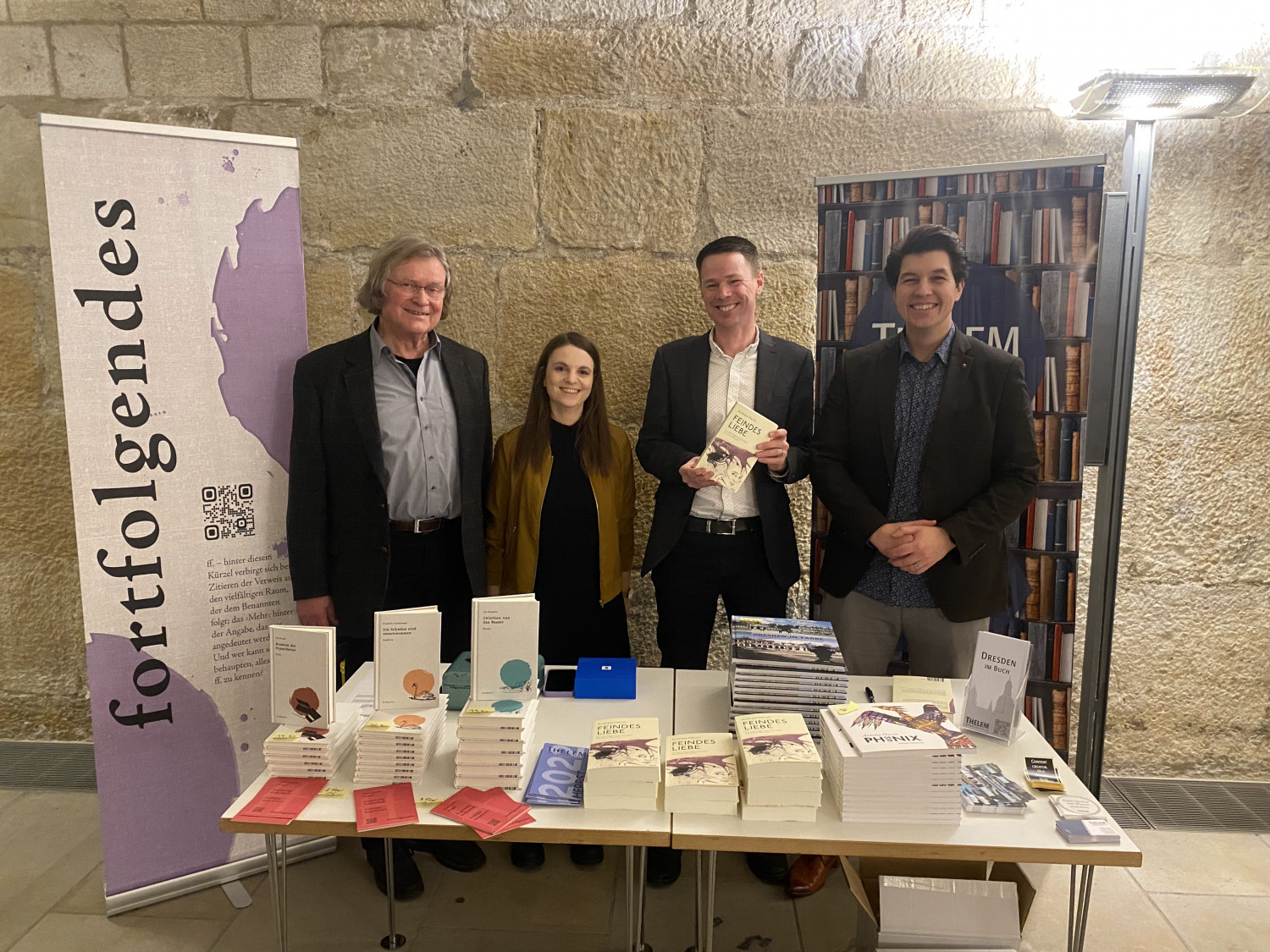 Loving the Enemy – building bridges in a time of war is a story of people from two nations, so it is fitting that there is now a version in German. Shortly after completing his sabbatical in 2016, Andrew met Rainer Barczaitis, who was in Coventry to give an account of the tradition of British visitors to Dresden over the centuries, culminating in the so-called "English colony" of some 1000 British nationals that formed in Dresden before WW1 put an end to that tradition. Rainer showed interest in the story of Fred and Rike; a friendship began, Rainer arranged a reading of portions of the book (still in draft form) in Dresden in February 2019, and soon after its publication in England, worked on the German copy. Author Andrew March comments that it's wonderful for this story to now have a new life among the people of Dresden and Germany. Once again, this story of overcoming hatred is crossing boundaries. Rike and Fred would be incredibly proud.
The book launch of Feindes Liebe took place on 14 February, 2023 and was part of the annual program to commemorate the destruction of Dresden in 1945, but as Rainer Barczaitis stressed, the date today celebrates the overcoming of hate and the manifold ties of friendship that bind former enemies, finding a deeply symbolic expression in the twinning of Coventry and Dresden. It was a wonderful occasion, attended by some 130 people who filled the atmospheric Frauenkirche crypt to hear greetings from the Mayor of Coventry, pastor of the Frauenkirche, Angelika Behnke, a selection of music delivered by members of the "Neuer Chor Dresden" as well as contributions from Andrew March who travelled over from Coventry especially for the occasion, Rainer Barczaitis, who shared about how Feindes Liebe came to be written and read portions of his translation. Pastor Angelika Behnke commented, "We were honoured and delighted to have the book launch in the Frauenkirche; it was the perfect place. Andy prefaced his book with the words, "Be bridge builders and dare to love" as a dedication for his children. Apart from Coventry, there is hardly a place where the story of his grandparents' lives and loves could be heard more authentically and encouragingly than in Dresden's rebuilt Frauenkirche, which sees itself as a bridge builder - and on Valentine's Day at that!"
For further information please contact revandymarch@gmail.com
More information about Loving the Enemy visit www.halwillpublishing.co.uk