From the Bishop of Coventry
The Cathedral, parishes, church schools and chaplaincies of the Diocese of Coventry join the nations of the UK, the Commonwealth and, indeed, the world in sadness at the death of Her Majesty The Queen. We send our deep condolences to The Royal Family and the assurance of the prayers of all our Christian communities, together with all the churches and faith communities across Coventry and Warwickshire.
Our late Queen Elizabeth brought stability and strength to our common life and was always there for us in loving duty in all the changing seasons of life and history. We pay tribute to Her Majesty's utterly dependable character marked by goodness, humility and deep concern for others. The vow made by the then Princess Elizabeth on her 21st Birthday when she said, 'I declare before you all that my whole life whether it be long or short shall be devoted to your service', was fulfilled to the end; and that has been a great gift to us all.
The Queen's sense of service was rooted in her faith in God and in his Son, Jesus Christ, whom she described as 'an inspiration and anchor in my life'. I pray that in this time of grief we may draw strength from the faith of The Queen in the love of God and the example she followed in the life of Jesus Christ.
Among the Devotions provided for Her Majesty on the day of Her Coronation was this ancient prayer.
God be in my head,
and in my understanding.
God be in mine eyes,
and in my looking.
God be in my mouth,
and in my speaking.
God be in my heart
and my thinking.
God be at my end
and in my departing.

God was in Elizabeth, whom we were glad to call our Sovereign Lady, in all these ways, and with her at the end and departing; and God is with her now in the fuller presence of eternal life. We know that God will be with His Majesty King Charles, her son, and we give thanks for the devotion of the King's Mother, our Queen, to God and to her people.
Long live our noble King,
God save the King.

A letter from Bishop Christopher to His Majesty the King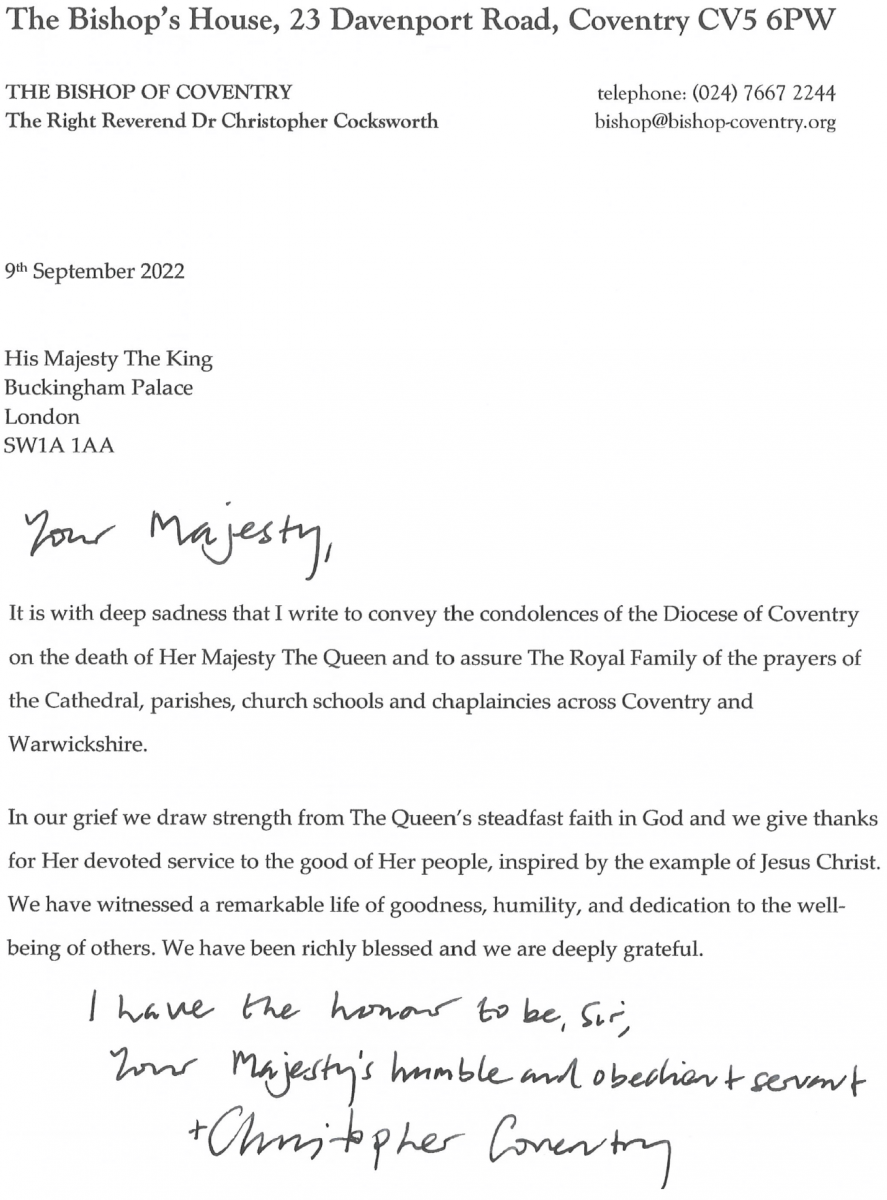 Bishop Christopher also paid tribute to HM The Queen at the House of Lords on Saturday 10 September.
Read more
A sermon preached by The Bishop of Coventry, the Rt Revd Dr Christopher Cocksworth, on the occasion of A Service of Commemoration and Thanksgiving in St Mary, Warwick, on the Eve of the Funeral for Her Majesty Queen Elizabeth II.
Download
From the Bishop of Warwick
Bishop John was interviewed for Sunday morning's BBC CWR radio show. The interview starts at 3.17.30 and lasts until 3.34.38 (with a break for a song in the middle).
Listen to the interview