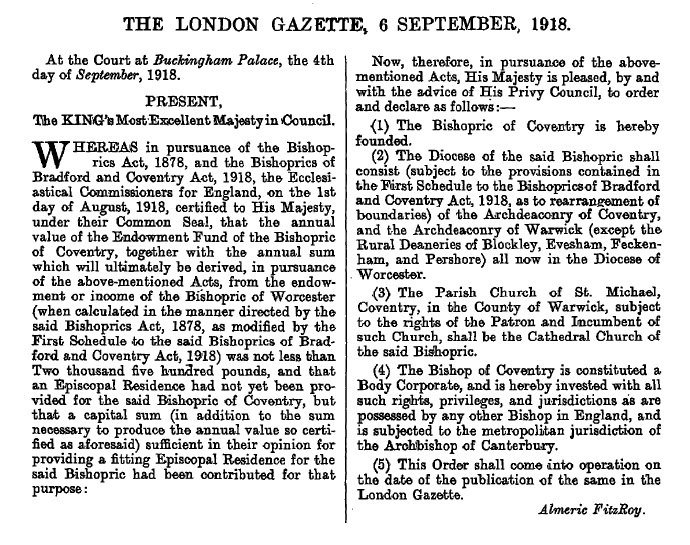 The beginnings of the Diocese of Coventry go back to the seventh century when the Diocese of Mercia was divided so that the southern part became the Diocese of Worcester and the northern part became the Diocese of Coventry and Lichfield, stretching as far north-westerly as Chester.
During the English Civil War, Coventry was a stronghold for Parliamentarian forces. Consequently, when the monarchy was restored the new Restoration Bishop, John Hacket, reversed the title of the diocese to "Lichfield and Coventry".
In 1836, the four deaneries of Arden, Coventry, Marton and Stoneleigh were transferred to the Diocese of Worcester by an Act of Parliament, creating the Diocese of Lichfield and leaving Coventry without its name in the title of a diocese.
In 1905, the City of Birmingham, together with the north-western parts of Warwickshire split from the Diocese of Worcester to become the new Diocese of Birmingham. The Bishop of Worcester, Charles Gore became the new Bishop of Birmingham. Bishop Gore was succeeded by Bishop Huyshe Wolcott Yeatman-Biggs who began to bring to birth the new Diocese of Coventry.
St Michael's, Coventry was made a Collegiate Church in 1908. Two years later, in 1910, No. 13 Priory Row was purchased as a Chapter House. An appeal was launched in 1913 to raise £60,000 and by 1918 the new Diocese of Coventry consisted of two Archdeaconries (194 benefices) – its area being the parts of Warwickshire remaining up to that time in the Diocese of Worcester.
Bishop Huyshe Wolcott Yeat-Biggs transferred from Worcester to become the first Bishop of the new Diocese of Coventry.