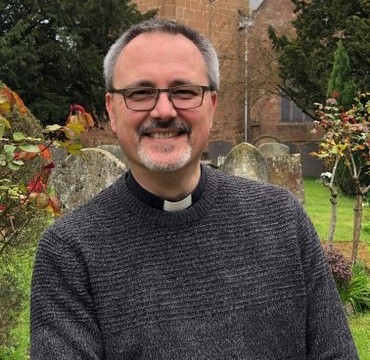 The Bishop of Coventry announces that the Reverend Tim Cockell has been appointed as Associate Archdeacon. Tim will initially step in acting Archdeacon Pastor from 3rd July 2023 until an appointment to this role is made at which point, he will assume the role of Associate Archdeacon.
Bishop Christopher said:
"Tim Cockell's ministry as part-time Associate Archdeacon over the last year has been very much appreciated by the diocese. I'm hugely grateful to him for the way he balanced Archidiaconal and parish ministry as Rector of St Mark's Bilton, and to the Wardens and PCC for their release of Tim's time.
In view of Tim's tried and tested ministry as Associate Archdeacon, I have asked him to step in as acting Archdeacon Pastor whilst we recruit to that role and then take on the role of Associate Archdeacon. I'm delighted to say that Tim has accepted the offer and, together with colleagues, I very much look forward to working with him as we serve the diocese.
With Gail Phillip taking up her placement as part-time Associate Archdeacon and with Tim in post at the beginning of July, we will have a much strengthened Archdeacons' Team, to be further strengthened, of course, when we make a permanent full-time appointment to the Archdeacon Pastor post."
Tim has been part of the Diocese of Coventry for 25 years and the Rector of Bilton since 2004. He was formerly Area Dean of Rugby before starting his placement last year.
Tim grew up in Reading and had a career in engineering before becoming a priest. He trained for ordination at Queen's College, Birmingham, where he met his wife Nell, who is also ordained. Tim was curate in Bracknell and a vicar in the Rugby Team Ministry before moving to Bilton.
Tim said:
"My year on part-time placement as Associate Archdeacon has been thoroughly enjoyable and has given me many valuable insights into the role. I am very much looking forward to taking on this role full-time working with parishes across the diocese and the team in the Diocesan Offices."
Archdeacon Barry adds:
"Tim has proved such a gift to the archdeacons' team and the wider diocese working with me on placement over the past year. I'm really pleased about his appointment and look forward to our continuing work together."