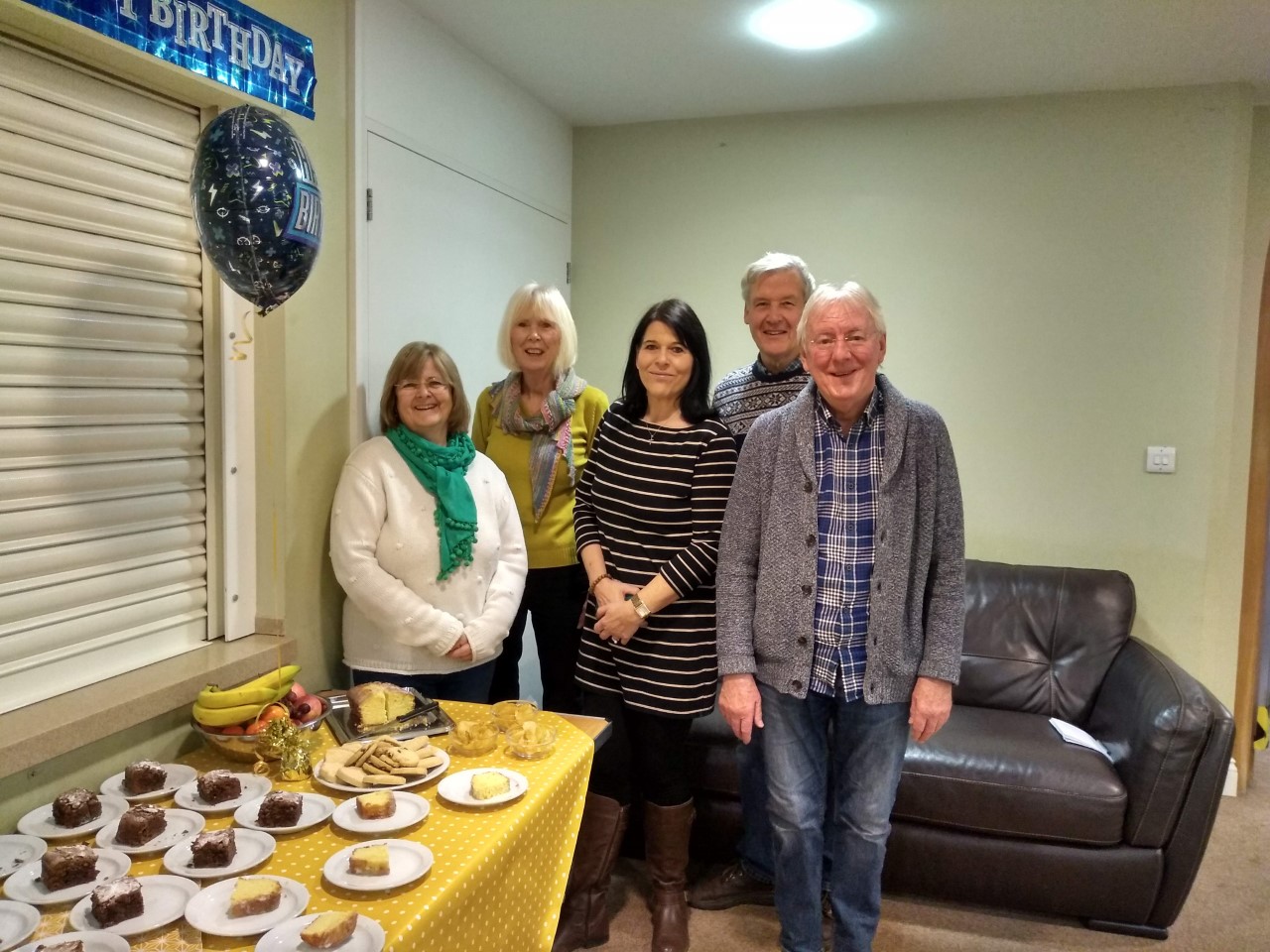 The team celebrate the cafe's first birthday
The Renew Wellbeing café at St Paul's Church in Leamington Spa celebrated its first birthday on the 17th January this year. The café is safe space open to everyone where it is ok not to be ok. To mark the anniversary, we chatted to the team at St Paul's who run the café.
Why did you set up the Renew Wellbeing café?
In early 2021 there was concern in the media about the increasing number of people suffering from mental health problems as a result of the Covid pandemic. Around the same time we heard Ruth Rice speak on the United Christian Broadcasters programme about the Renew Wellbeing Charity that she had set up to help churches provide a safe space where people would feel welcomed and helped. She was led to set up the charity after having had a breakdown herself and her church was unable to help her in appropriate ways. Also in 2021 the Church of England issued guidance called 'Supporting Good Mental Health' by Professor Chris Cook, accompanied by 'have a go' habits developed by Ruth Rice.
The vicar of St Paul's, the Revd Jonathan Jee mentioned at the 2021 Annual Parochial Church Meeting that he wanted to set up a Wellbeing Café and we felt God's nudge that this would be something that we would like to get involved in.
After much prayer and recruiting an excellent team we opened our doors on 17th January 2022.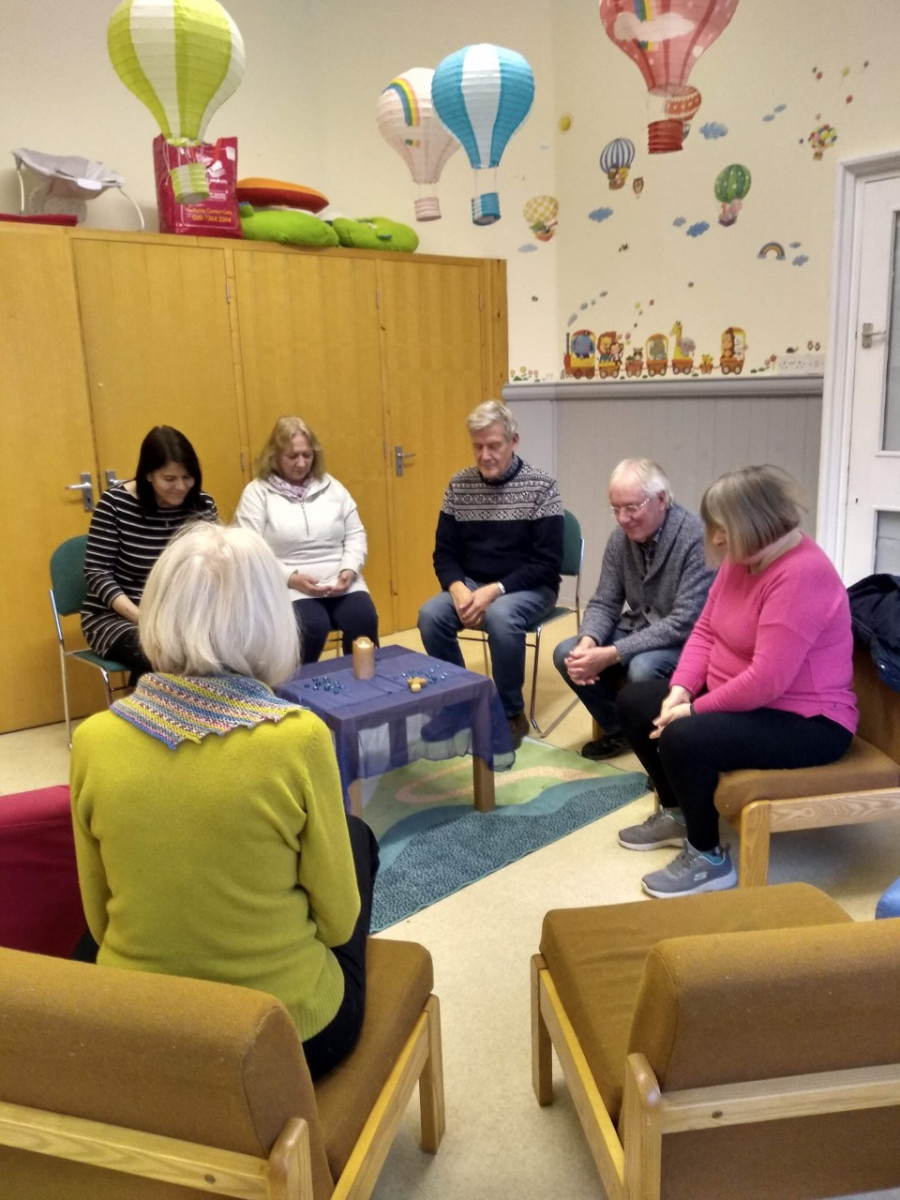 The cafe's prayer space
What happens at the Renew Wellbeing Café?
The café is open on a Monday mornings from 10:00 to 12:30. People don't have to book and can just turn up as they feel. Many guests come for an hour or so, some come for the whole session. We offer a good range of refreshments – tea/coffee and cake/biscuits including freefrom options. People can chat to each other, play board games, do a craft or sit in a quiet space.
We provide a warm, welcoming space where people can be themselves, there is no pressure on anyone to do anything they don't want to. We do offer an optional prayer meditation led by a team member.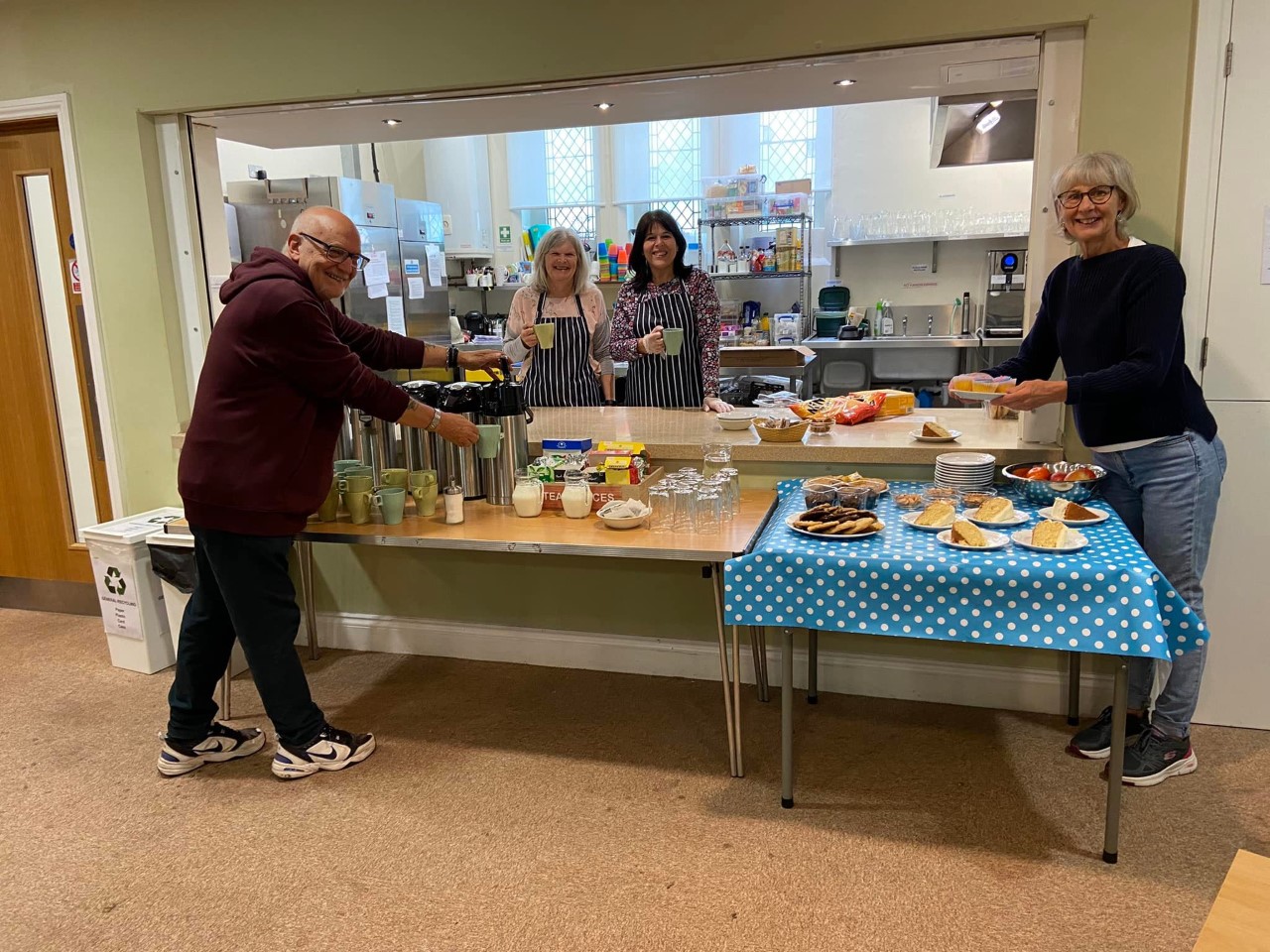 Free refreshments are available
How does this support people's mental health?
We do not ask questions about people's medical history or what is wrong with them. We are not trying to fix people's problems, indeed it could be dangerous to give people advice. Rather we signpost people to professionals who can help them in a particular area if appropriate and they want this.
By providing a warm safe space people are able to relax, enjoy company and be themselves. It is often said that it is a place where it is ok not to be ok, but it is a place where it is ok to be ok as well.
People can do as much or as little as they want to or feel able to. The craft activity and games help people to interact with each other and these activities are also helpful for cognitive skills and provide the satisfaction of achieving something.
We support the 5 steps to wellbeing as recommended by the New Economics Foundation as follows:
Connecting with other people
We encourage good relationships that are important for mental wellbeing. They can:
help you to build a sense of belonging and self-worth
give you an opportunity to share positive experiences
provide emotional support and allow you to support others
Be physically active
This is limited in the café but we encourage people to walk to the café for exercise.
Learn new skills
Learning new skills doing crafts and playing board games improves mental wellbeing by:
boosting self-confidence and raising self-esteem
helping build a sense of purpose
helping people to connect with others
Give to others
Helping others and sharing activities are acts of giving and kindness that can help improve mental wellbeing by:
creating positive feelings and a sense of reward
giving you a feeling of purpose and self-worth
helping you connect with other people
Pay attention to the present moment (mindfulness)
Paying more attention to the present moment can improve your mental wellbeing. This includes your thoughts and feelings, your body and the world around you.
Some people call this awareness "mindfulness". Mindfulness can help you enjoy life more and understand yourself better. It can positively change the way you feel about life and how you approach challenges.
Painted stone craft
What advice would you give to other churches interested in setting up wellbeing cafes?
Stop thinking and start doing.
Firstly check if there are other wellbeing cafes, or similar, in your area that perhaps you could support. The Renew Wellbeing charity is working with 220 churches that have renew café spaces and there are other organisations setting up similar cafes.
Pray about it and see if you feel God's nudge that this is something that he wants you to get involved in.
Go and visit your nearest café to see for yourselves what it is like – we did.
Recruit your team using the Diocesan Safer Recruitment process which is an excellent process as it includes writing a role description so both the volunteer and the café leader know what the role is, what is expected and what the boundaries are.
Get set up and open the doors …………….
Find out more about the St Paul's Wellbeing cafe here.
Find out more about the Renew Wellbeing charity here.