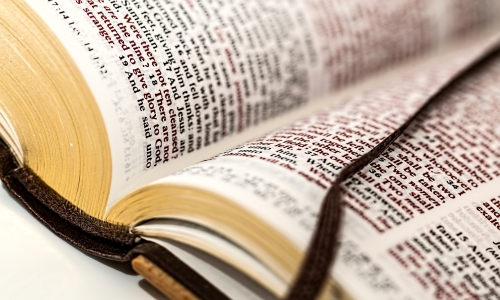 Bible translations exist along a line that runs between literal (word for word, which is often almost impossible to read) and paraphrase (often using completely different words to try to convey the thought of the passage). In the list below we treat literal as 1 and paraphrase as 5. Some translations are by committee (e.g. NIV and NRSV), others use a team of scholars who each translate particular books – you get a better distinct style to each book but less overall consistency this way.
We recommend the following versions of the Bible:

New Revised Standard Version (NRSV) – generally accepted as the best contemporary translation for accuracy and readability. Some more conservative US Protestants object to the gender-inclusive translations, such as 'brothers and sisters' for 'brothers', though at each point there is a footnote pointing out that the Greek says only 'brothers' (1989). 3/5

New International Version (NIV) – generally conservative American translation from the United Bible Societies (1978). 3/5

English Standard Version (ESV) – updated translation of the 1946 Revised Standard Version, itself based on the Revised Version which was based on the AV! Generally conservative and a reaction to the NRSV, which is also descended from the RSV, and fairly literal (2001) 2/5

The Message – Eugene Peterson's paraphrase is generally pretty easy to read, though sometimes a bit American for English readers! (2002) 5/5 – or even 6/5!

Good News Bible – very fresh when it appeared, it still reads well and was based on a limited vocabulary (1973) 4/5

Contemporary English Version – similar to the Good News, with a limited vocabulary and very accessible to the adult reader (1995) 4/5

Jerusalem Bible –Roman Catholic translation by a team, the version of the Book of Jonah was originally produced by J.R.R. Tolkien and once you know that, you can tell! (1966/1985). Varies between 2/5 and 5/5!

New Living Translation (NLT) – American translation written to be read aloud by a range of scholars (1996). 4/5

New Testament for Everyone – Tom Wright's own translation, usually clear and crisp (2011) 5/5

J.B. Phillips New Testament – revolutionary when it appeared in instalments in the 1950s, into a church which mostly still read the AV, Phillips still offers some lovely turns of phrase. The translation of Acts is particularly recommended (1958) 5/5

There are lots of different translations available. If you are unsure, speak to your vicar.